Sheriff's Department Explorer Program
The Explorer Program should resume Summer 2018.
The Explorer program, a part of the Boy Scouts of America, allows youth to see firsthand how law enforcement works through a boot camp and classroom atmosphere. The program grooms future law enforcement officers, requiring the students to meet daily for the first two weeks and then three days a week.


Patrick Sandridge, Ja'Mario Rainey, B.J. Carr, DaJour Evans, Stone Varner, and Gabriel Ross

Almost 200 guests attended the Explorer's graduation on July 27th , including law enforcement from all over the state and the Mississippi Highway Patrol. The Explorers were presented with badges and certificates for their hard-earned work over the past eight weeks. Congressman Gregg Harper addressed the crowd, followed by John Lawrence Cannon who spoke on behalf of the class.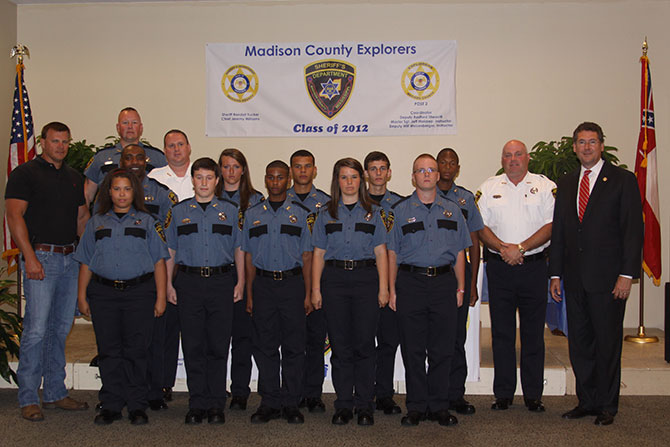 The inaugural Explorer Class included: Jordin Booker from Ridgeland, James Blakely Brooks from Madison, John Lawrence Cannon from Madison, Shelton Champion from Canton, Justina Michell Divine from Canton, Tavious Jarrett Lunsford from Ridgeland, Molly Grace Ratcliff from Canton, John Henry Sullivan from Canton, and Shekarris D'unta Taylor from Flora.