Chief Deputy Sheriff Jeremy Williams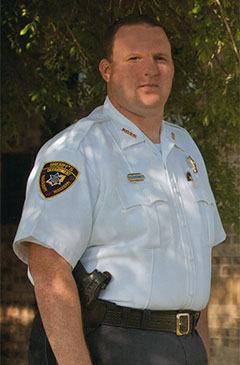 Jeremy Williams was appointed Madison County's Chief Deputy Sheriff in January 2012 by Sheriff Randy Tucker. Chief Williams has served the Madison County Sheriff's Department for more than 18 years.
In 2008, Chief Williams was named the Sheriff's Department "Metro Top Cop." Prior to being named Chief Deputy, Williams served as a dispatcher, deputy, sergeant and lieutenant. Before being named Chief Deputy he served in the warrants division, supervising all warrant activities for the department. He also served as a part time Task Force Officer for the U.S. Marshal's Gulf Coast Regional Fugitive Task Force in Jackson.
Chief Williams received law enforcement training at the Rankin County Law Enforcement Officers Training Institute in Brandon for part-time reserve training, and the Mississippi Law Enforcement Training Academy in Pearl for full-time academy and law enforcement officials training. He then received specialized training in dispatch, National Crime Information Center (NCIC), tactical dispatch, accident investigations and high-risk warrant service.
Chief Williams graduated with an Associates' Degree from Holmes Community College and a Bachelor of Business Administration Degree from Belhaven College. Williams is married to the former Renee Wise of Louise, Mississippi, and they have one daughter, Addison. Chief Williams and his family are members of Camden Baptist Church, where he serves as trustee and treasurer. Chief Williams is long-time Madison County resident, spending his leisure time hunting and fishing.